Reading Time:
3
minutes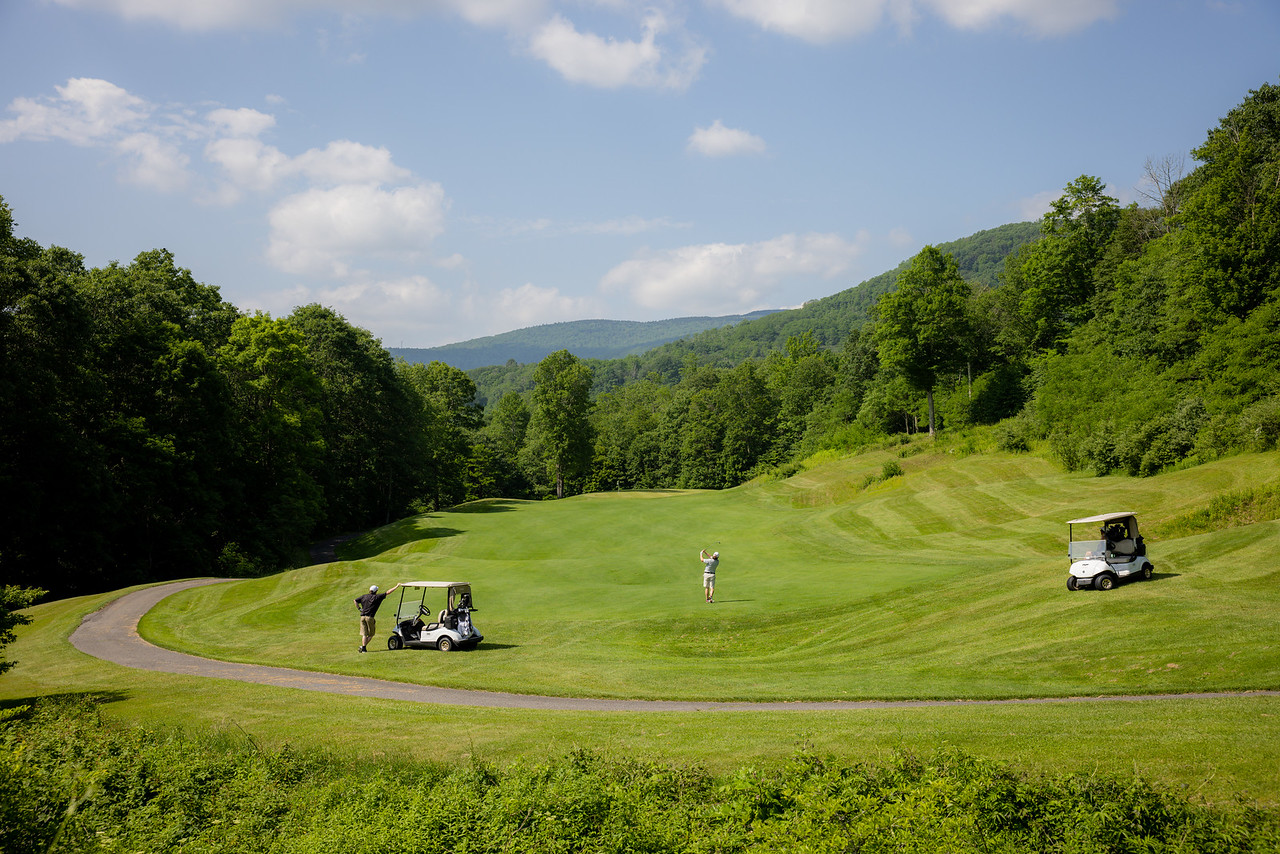 Summer at Snowshoe takes you off the ski slopes and into some lesser-known areas of the mountain. Winding trails lead from the Village to every corner of the 11,000 acres on and around Cheat Mountain. Mountain bikers explore the Ridge Trail, paddlers and swimmers enjoy Shavers Lake. Near the bottom of the Western Territory, golfers experience the sights and challenges the Raven Golf Club offers. Only one of the top 48 things to do at Snowshoe Mountain this summer.
The Raven, originally named "Hawthorne Valley," opened in 1993 and was designed by legendary course designer Gary Player. The course layout takes advantage of the natural mountain terrain, with some tee boxes towering over 200 feet above the greens below. The rolling fairways lead to some of the best views of any golf course in the state. Each hole is unique to itself, creating an especially memorable golf experience. The course also offers a practice facility to warm up before your round or work on your game. The Raven is currently ranked the #5 public course in West Virginia, has a course rating of 75.5 and a slope rating of 142.
Golf Season Passes
For $369, the Raven Season Pass includes unlimited rounds and no green fees, 20% off select golf merchandise, and 10% off at the Raven Grille all summer long. We also throw in one free kids pass to share with your favorite person under 17 years old.
The Raven Grille
Speaking of the Raven Grille, it has become a staple around Snowshoe during the summertime. It has a great family atmosphere featuring some delicious home cooking. The hand-breaded Buffalo Chicken Sandwich is a favorite local item on the menu, closely followed by the Reuben and classic Clubhouse Sandwiches. Their hand-cut fries are a terrific addition to the sandwiches; just add some malt vinegar to complete the perfect meal combo. For the 21 years and over members of your group, as for the local favorite "John Daly," a boozy spinoff of the classic Arnold Palmer drink.
Remember that you don't have to play golf to have lunch at the Raven. The clubhouse does not have a dress code like the course does, so come down anytime to enjoy the food, drink, and views! The Raven Grille is open Monday-Thursday 10:00am-6:00pm, and Friday-Sunday 8:00am-6:00pm.
Behind the Scenes at the Raven Golf Club
The Raven employees and grounds crew take pride in providing guests an excellent experience and work hard to maintain the course.
Book a Tee Time
Tee times can be booked online by calling 304-572-6500 or through the Raven Golf App, which is available in the App store. Come join us for a round at the Raven Golf Club and see why it's one of the most unique golf courses in West Virginia. Tee times are available daily through October 16, 2022.